....
....

Home
History
Overview
The Objectives
Project Inspired by:
..... Marian Messages
The Program: East River
The Program: Battery Park
Marian Images Showcased
Your Country
The Staff
Organizers
Participating Apostolates
Endorsements
Journal
Hotel Rates
Links
---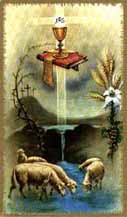 ....
THE PROGRAM : BATTERY PARK
10:00 A.M.
Battery Park: Assembly
11:00 A.M.
Kick off ceremony at Pier A.
12 Noon
Angelus and boat launching with the Statue of Liberty as the backdrop.
The fluvial procession / regatta of Marian images will start.
Well-decorated sailboats will convey the images along the East River.
Huge crowds are expected on the many bridges.
Various other boats will participate in the parade.
THE PROGRAM:

WORLD MARIAN PEACE REGATTA, SEPTEMBER 11, 1999

PROGRAM OF ACTIVITIES
9 - 9:45 a.m.
Registration at Battery Park

9:45 - 10:00
Assembly
10-10:30
Kick-off ceremony
Ted Flynn, Ambassador Ernesto Maceda,
Jude Ejercito, Madame Imelda Cojuangco
10:30 - 12:30
Fluvial procession along the East River.
Flotilla stops in front of the United
Nations to consecrate the UN.
6:00 P.M.
Holy Mass
7:00 P.M.
Act of Consecration - Prayers for World Peace
7:30 P.M.
Fireworks - End of Liturgucal Services
7:45 P.M.
Marian Assembly
12:00 MN.
Fireworks - end of Assembly
Battery Park Program (Some chairs will be provided. It is best to bring picnic blankets and stools in case the crowd overflows.) 10:30 - 11:30 Rosary with Marian songs. Rosary to be led by Lydia Sison. Music c/o the Daughters of St. Paul. Litany of the Blessed Mother to be led by Gerard Sison. 11:30 - 12 noon A talk on Mary's messages by Irish visionary Christina Gallagher and Marian expert Fr. Gerard McGinnity. 12 noon Angelus to be led by Fr. Gerard McGinnity. 12:05 - 12:15 Talk on Mary's messages resumes. 12:15 - 12:30 (Another talk to be confirmed.) 12:30 - 12:45 Praise and worship songs. Images from the flotilla arrive. 12:45 - 1:30 pm Talk on Mary's role, by Dr. Mark Miravalle. 1:30 - 2:00 Talks on the Pro-Life cause Sister Pilar Versoza Norma McCorvey 2:00 - 2:45 Talk on Marian prophecy and the new times by Ted Flynn. 2:45 - 3:00 More praise and worship songs 3:00 - 3:20 Divine Mercy prayers; chaplet of the Divine Mercy. To be led by Fr. Jerry Orbos. 3:20 - 3:45 Talk on devotion to Mary, by Fr. Orbos. 3:45 - 4:00 More praise and worship songs. 4:00 - 4:30 Prayers for healing. To be led by Fr. Theo Rustia and the Bethesda Spring of Hope Com munity. 4:30 - 5:30 Rosary, Adoration, and Benediction. To be led by Fr. Dave Clay. 5:30 - 7:00 Holy Mass This will be concelebrated by Fr. Dave Clay, Fr. Gerard McGinnity, Fr. Jerry Orbos, Fr. Sonny Ramirez, Fr. Theo Rustia. 7 p.m. Consecration of All Nations to the Lady of All Nations. Prayers for world peace. Fireworks.